Nothing is better than a Haribo
Australia
It is the first choice for all candy lovers because they have an unbeatable taste. Classic Haribo Australia has an amazing fruity variety that bursts in your mouth. These sweets are gluten-free and have incredible taste. Kids and grown-ups all love to share gummies with family and friends. Perfect sweets that tantalize your taste buds. No artificial flavor is used in the manufacturing of gummy. The sweet and sour taste of edibles creates fun every day. It is the world's famous gummy brand their treats uniquely delights your taste buds. Quality is their priority, so they make products with pure raw material.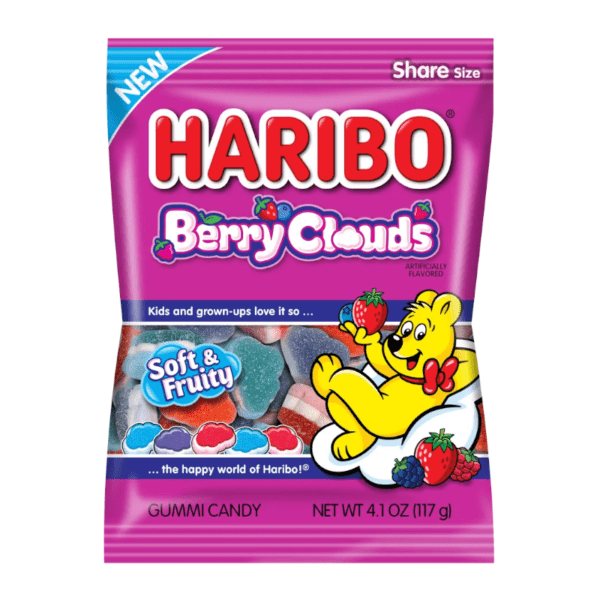 Haribo Berry Clouds are a delightful candy treat that comes in a convenient 117g pack. These chewy and soft gummies
Naturally flavored mouth-watering sweets
Bear gummy plays a significant role in bringing happiness in people's lives. Yummy little chewy Smurfs gummy satisfy your sweet tooth. You are in a happy world where you can get your desired product. Scrumptious treats are suitable for celebrations, gifts, and parties. We offer safe and fresh products to maintain your health. American Candy Store ensures customers receive the best treats always. Their products also have protective packaging and present products in style. Our truly original products fulfill all your needs. We also try to add the latest treats to give you a more enjoyable experience. Kids are crazy about jellies and no one can stop them from eating.
Soft edibles tickle your tongue
It is a good time to share flavorful sweets with your old and new friends. Haribo Australia has a subtle taste and adds goodness to your life. Interesting bear and snake treats arouse the interest of people. American Candy Store has an irresistible range of Trolli Australia that is fit for you. The fun shapes make them different from others and also engage consumers.  Happiness is a bowl of berries so, don't forget to add them to your life. These types of edibles are essential for a kid's development. You will surely find fun in every bag because they have a different appearance. The smell of edibles quickly increases your cravings and impels you to eat them.
Superior quality of whimsically delicious gummy
The distinctive shapes of jelly make them awesome among others. You can't stop yourself from eating the whole bag when you open it. American Candy Store offers delicious confectionaries to give a feeling of awesomeness. This brand has unique and amazing products and people likes to eat them all the time. We provide genuine gummy and people of all ages can eat them. Your taste buds go crazy when you eat a piece of sweet. If you want to shop from the best store then don't choose another over us. It is also a staple item of childhood, so get it to refresh your memory. You can also send them to your friend to make them feel important.
Irresistible variety of sweets for everyone
If you are looking for Haribo Australia at affordable rates then look no further. We don't compromise on the quality of edibles because we care about our customers. American Candy Store delivers with complete responsibility what exactly your order is. Visit our website and book your favorite flavor of sweets. If you are searching for a grocery store near you don't worry it is the best place for you. There are a lot of confectionaries, snacks, and cereals that can smash your hunger. We also offer fast shipping to deliver your product sooner than the exact time.  No sweet can compete with their taste so what are you waiting for? Place your order right away. If you are facing problems regarding order then contacts us and our staff is friendly and they will help you. Our store is the best in the town where you can easily find succulent treats like Reeses to satisfy your cravings.