Buy Warheads Candy Online in Australia – Unleash the Sour Sensation
Welcome to the ultimate destination to Buy Warheads Candy Online in Australia! At our online candy emporium, we take immense pleasure in offering the widest selection of Warheads candies, bringing you an explosive burst of sourness that will tantalize your taste buds. Satisfy your sweet tooth cravings with our authentic Warheads candies, renowned for their highly sour flavour and delicious sweetness. Whether you're a die-hard Warheads fan or a curious candy connoisseur, our website is your gateway to experiencing the ultimate sour sensation!
Warheads chewy cubes theatre box is an assortment of fruity flavours. Orange, watermelon, blue raspberry, black cherry, strawberry, green apple. A mild sour
Why Choose Our Warheads Candies From our Online Store?
Authenticity Guaranteed: We take pride in being an authorized seller of genuine Warheads candies, ensuring you get the original, unmatched taste that has won the hearts of candy enthusiasts worldwide.
Extensive Product Range: Explore our vast assortment of Warheads candies, including Extreme Sour Minis, Sour Bubblegum Pops, Super Sour Double Drops, Warheads Cubes, and more. We've got something for every sour candy lover!
Fast and Reliable Delivery: Your candy cravings can't wait, and neither should you! We strive to process and dispatch orders promptly, ensuring your sour treats reach your doorstep in the shortest time possible.
Secure Online Shopping: Rest easy knowing that your online shopping experience with us is protected by state-of-the-art security measures, safeguarding your personal information and transaction details.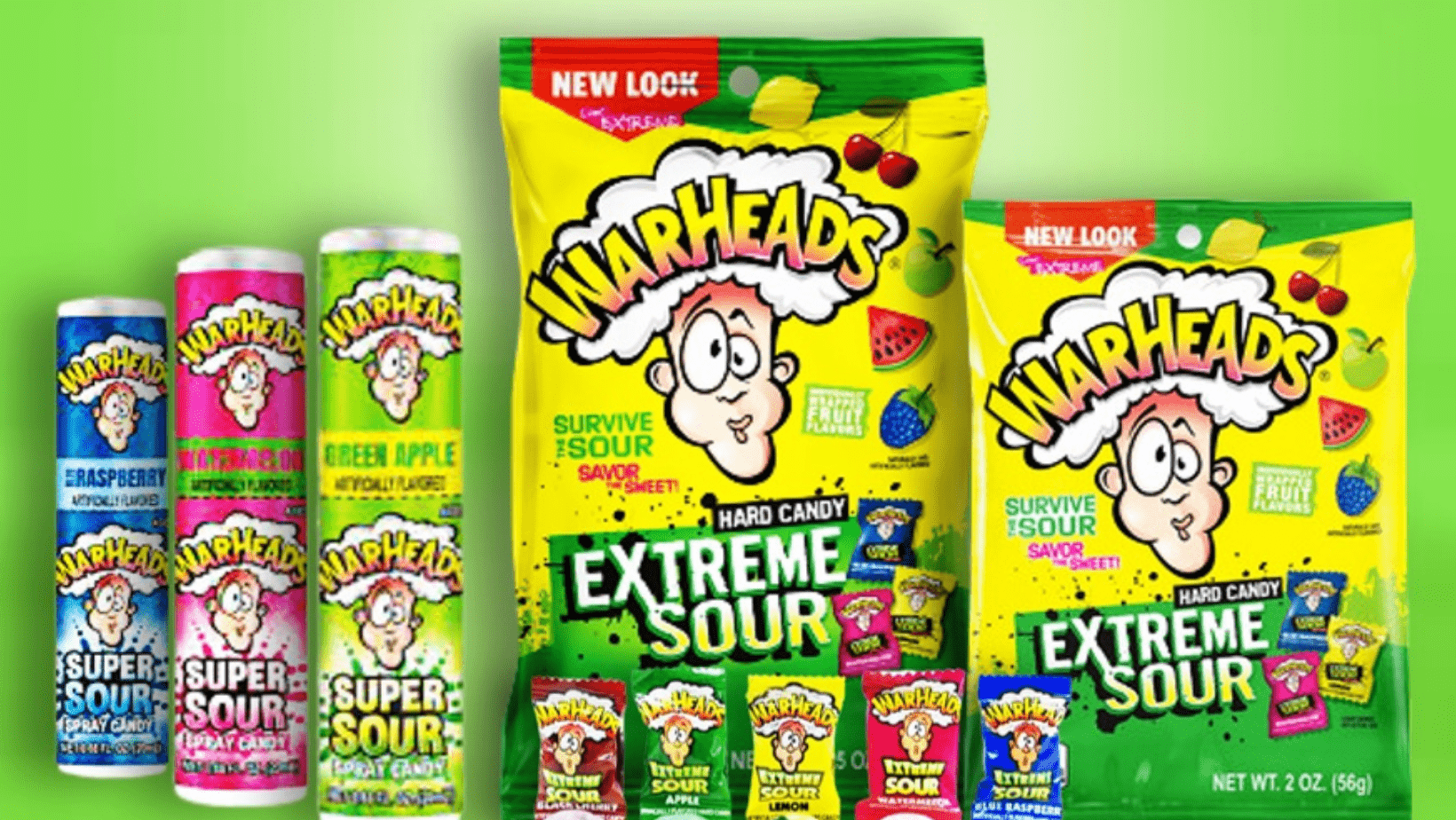 Our Delectable Warheads Collection: 1. Extreme Sour Minis 49g: Small in size but big on flavour, these bite-sized Warheads pack a powerful punch of sourness, leaving you craving more.
Extreme Sour Hard Candy 28g & 56g:The classic Warheads candies that started it all! These hard candies deliver an explosion of sourness that mellows into a delightful sweetness.
Extreme Sour Hard Candy 240 Piece Tub:Calling all Warheads fans – this mega tub is a must-have! Stock up on your favourite sour candies and share the intense flavour with friends and family.
Warheads Cubes 45g & 150g:Each cube is a medley of exciting flavours, ranging from eye-watering sour to blissful sweetness, delivering a multi-dimensional taste experience.
Warheads All Mixed Up 45g & 150g:Can't decide on a single flavour? Our "All Mixed Up" bags offer an assortment of various Warheads flavours, creating a surprise with every candy.
Sour Bubblegum Pops 19g:Enjoy the fun of a lollipop and gum combined in one delightful treat, complete with a burst of sourness at the core.
Super Sour Double Drops 30ml:Elevate the sourness of any treat with these potent sour liquid drops. A little goes a long way in enhancing your candy experience.
Super Sour Spray 20ml:Spritz your snacks with a tangy twist using our Super Sour Spray. Elevate the sourness of any treat with just a spritz!
Indulge in the Sour Delight – Order Now! Ready to embark on a sour adventure? Ordering your favourite Warheads candies is as easy as 1-2-3:
Visit our user-friendly website at https://www.americancandystore.com.au/.
Explore our extensive selection of Warheads products and add your desired items to the cart.
Proceed to secure checkout, provide your shipping details, and complete the purchase.
Embrace the Sour Challenge with Warheads Candy Australia! Prepare to pucker up and dive into a world of extreme sourness and sweet satisfaction. Our authentic Warheads candies are sure to impress, making every candy-craving moment an unforgettable experience. Treat yourself or surprise a loved one with a sour delight today! So, what are you waiting for? Order your Warheads candies now from American Candy Store!